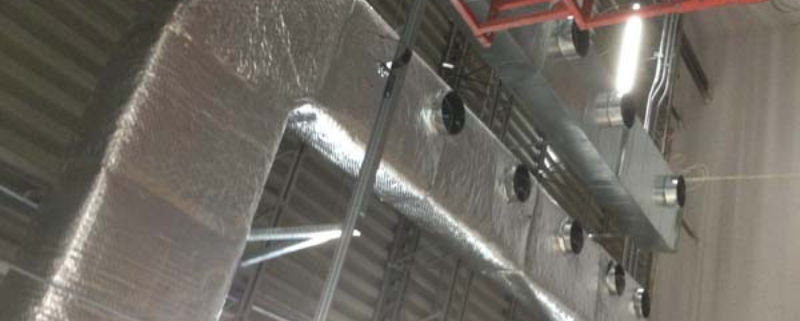 Battling the Summer Heat: How Proper Duct Insulation Keeps You Cool
Summer's warm embrace is something many of us look forward to. Yet, when the mercury rises, the inside of our homes becomes our refreshing retreat. Our HVAC systems play a significant role in ensuring our indoor comfort. However, there's an unsung hero in this cooling equation that often gets overlooked: duct insulation. Proper duct insulation is key to optimizing the efficiency and effectiveness of our cooling systems. HVAC insulation wrap, in particular, plays an essential role in this process.
Duct Insulation: The Backbone of Efficient Cooling
While we can appreciate the cool air emanating from our vents, the journey of that air from the HVAC unit to different rooms is crucial. If ducts aren't insulated correctly:
Cool air can lose its temperature, making your unit work harder.
Energy consumption can rise, leading to heftier utility bills.
The overall lifespan of your HVAC system can be reduced.
Popular HVAC Duct Insulation Choices
There's a variety of insulation options to fit different needs. Here are some top choices:
HVAC Bubble Wrap Insulation: Comprising of a bubble wrap layered between reflective foils, it's an excellent solution to ward off external heat.
Duct Insulation Wrap: This wrap acts like a blanket for your ducts, ensuring the temperature of air transported remains consistent.
Fiberglass Duct Board: Beyond insulation, this material offers noise reduction, which can be an added bonus for many homeowners.
 The Perks of Proper Duct Insulation
Understanding the benefits of duct insulation can help homeowners make informed decisions:
Uniform Cooling: Proper insulation ensures every room gets its fair share of coolness.
Economic Benefits: Reduced energy usage directly translates to savings on your monthly bills.
Durability of HVAC Systems: Less wear and tear mean your system lives a longer, more efficient life.
Eco-Friendly Choice: By consuming less energy, you're actively reducing your carbon footprint.
Your Home's Cooling: Making the Right Choice
The importance of choosing the right insulation can't be emphasized enough. Depending on the architecture of your home, its location, and your specific needs, the type of insulation you require might vary. Consulting with a specialist can ensure you make an informed choice.
Final Words
While the sunny days and warm nights of summer are a joy, ensuring your home remains a cool sanctuary is essential. Duct insulation is crucial in achieving this comfort. So, when you're basking in the coolness of your home this summer, spare a thought for the insulated ducts working silently in the background.
For top-tier HVAC solutions, trust none other than Insulapack. From consultation to installation, our team ensures you're set for summers to come. Contact us now and take the first step towards a cooler, more comfortable home!
https://www.insulapack.com/wp-content/uploads/2022/08/HVAC-duct-insulation-1.png
450
800
Insulapack
https://www.insulapack.com/wp-content/uploads/2020/12/logo-insulapack-brown-300.png
Insulapack
2023-09-22 02:04:57
2023-09-22 02:06:54
Battling the Summer Heat: How Proper Duct Insulation Keeps You Cool