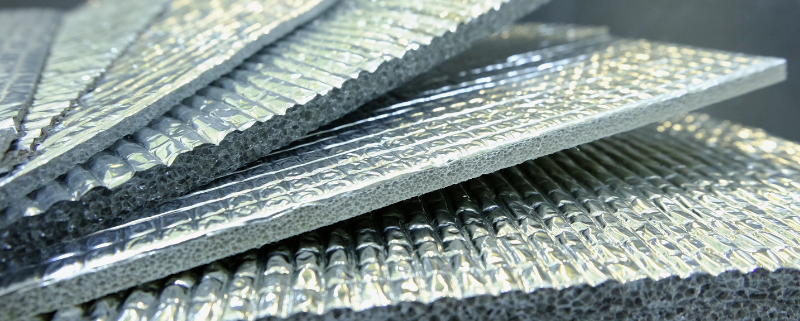 Energy Savings 101: How Bubble Wrap Insulation Reduces Your Utility Bills
With the rising cost of energy and the increasing awareness of the need for energy-efficient solutions, homeowners and businesses alike are seeking ways to save money while reducing their environmental footprint. One such solution that has gained popularity in recent years is bubble wrap foil insulation. This innovative insulation material can significantly reduce your utility bills while offering a range of additional benefits. In this blog, we will explore how bubble wrap insulation works, how it compares to traditional insulation methods, its applications, and its potential energy savings.
 Understanding Bubble Wrap Foil Insulation
Bubble wrap foil insulation is a unique insulation material that consists of a layer of plastic bubbles sandwiched between two layers of reflective aluminum foil. The key to its effectiveness lies in its ability to trap air within the plastic bubbles, creating a barrier that effectively prevents the transfer of heat. This insulation method is particularly effective in preventing radiant heat transfer, which is a major contributor to heat gain or loss in buildings. Silver bubble wrap insulation is an example of this type of insulation, which has a reflective silver coating that further enhances its insulating properties.
Comparison to Traditional Insulation Methods
Traditional insulation materials, such as fiberglass or cellulose, work by trapping air within their fibers or cavities to slow down the transfer of heat. While these materials can be effective, they have a few drawbacks, including:
Susceptibility to moisture damage
Loss of effectiveness over time due to settling or compression
Potential health hazards, such as respiratory issues or skin irritation
In contrast, bubble wrap foil insulation offers several advantages:
Highly resistant to moisture and mold
Long-lasting, with minimal loss of effectiveness over time
Non-toxic and safe for installation without the need for protective gear
Easy to install, with reduced labor costs compared to traditional insulation methods
Applications of Bubble Wrap Foil Insulation
Bubble wrap foil insulation can be used in a variety of applications, including:
Residential and commercial buildings
Warehouses and industrial facilities
Greenhouses and agricultural buildings
Shipping containers and vehicles
This versatile insulation material can be used for both new construction and retrofitting existing structures, making it an ideal choice for energy-conscious property owners.
Calculating Energy Savings with Bubble Wrap Foil Insulation
The energy savings that can be achieved with bubble wrap foil insulation depend on several factors, such as the climate, the type of construction, and the specific application. However, in general, this insulation material can:
Reduce heating and cooling costs by up to 50% in some cases
Improve the overall energy efficiency of a building, resulting in lower utility bills
Contribute to a reduced environmental impact by lowering greenhouse gas emissions
Additional Benefits of Bubble Wrap Foil Insulation
Aside from the energy savings and reduced utility bills, bubble wrap foil insulation offers a number of additional benefits:
Improved thermal comfort and temperature regulation within the building
Reduced noise transmission, resulting in a quieter indoor environment
Increased fire resistance, thanks to the fire-retardant properties of the aluminum foil
Lightweight and easy to transport, resulting in lower shipping costs
Conclusion
Bubble wrap foil insulation is a cost-effective, energy-efficient, and versatile insulation solution that can help you save on your utility bills while providing numerous additional benefits. At Insulapack, we are proud to offer high-quality bubble wrap insulation products, including Bubble Wrap USA, that can help you achieve your energy-saving goals. To learn more about how bubble wrap foil insulation can benefit your property, Contact our team today!
https://www.insulapack.com/wp-content/uploads/2023/05/Energy-Savings-101-How-Bubble-Wrap-Insulation-Reduces-Your-Utility-Bills.png
450
800
Insulapack
https://www.insulapack.com/wp-content/uploads/2020/12/logo-insulapack-brown-300.png
Insulapack
2023-05-15 03:20:27
2023-05-15 03:29:13
Energy Savings 101: How Bubble Wrap Insulation Reduces Your Utility Bills