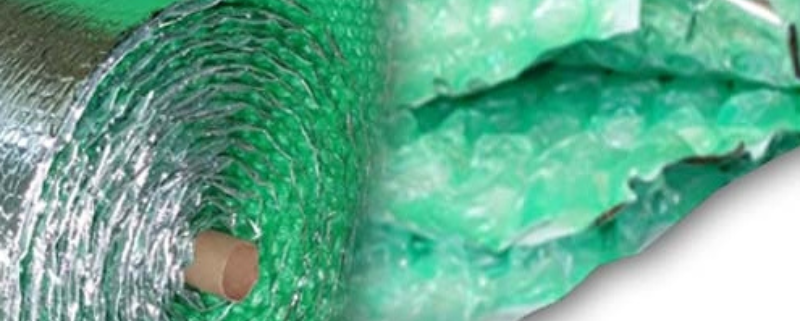 Getting the Most Out of Bubble Wrap Insulation – Save Energy and Money with Insulapack
Whether it's cold, chilly winters or sweltering summer heat, your home should be a fortress against unwelcome weather extremes. At Insulapack, we have an effective solution: bubble wrap insulation. Our offerings are not only energy-efficient but also cost-effective, providing optimal value for every homeowner.
What is Bubble Wrap Insulation?
Bubble wrap insulation, particularly aluminium bubble wrap insulation, is a unique product that uses a layer of air-filled bubbles sandwiched between reflective surfaces. This innovative product design offers excellent thermal resistance, minimizing energy loss and keeping your home comfortable all year round.
Why Choose Bubble Wrap Insulation?
When it comes to insulating your property, you may be wondering, "Why should I opt for bubble wrap insulation?" Here are compelling reasons:
Energy Efficient: Bubble wrap insulation prevents heat transfer, ensuring your home stays warm in winter and cool in summer.
Cost-effective: By reducing the need for artificial heating or cooling, you save money on energy bills.
Easy Installation: With its flexible and lightweight nature, bubble wrap insulation can easily be installed in various parts of your home.
Environmentally Friendly: By lowering energy consumption, you're reducing your carbon footprint and supporting the environment.
How Does Aluminium Bubble Wrap Insulation Work?
Understanding how bubble wrap insulation works can help you appreciate its efficiency. The key lies in the bubbles – tiny air pockets trapped between two layers of reflective aluminium material. These air pockets provide a barrier against heat transfer, ensuring the outside temperature does not impact your home's interior.
When to Use Double Bubble Insulation?
At Insulapack, we offer an advanced version of bubble wrap insulation known as double bubble insulation. This product incorporates two layers of bubble wrap for extra protection. But when should you use it?
Use double bubble insulation when you need enhanced insulation for areas like crawl spaces, basements, and attics, where the extremes of temperature are often more noticeable. It is also a great choice for industrial applications where superior thermal resistance is required.
Strategies to Maximize the Benefits of Bubble Wrap Insulation
To get the most out of your bubble wrap insulation, we recommend following these strategies:
Ensure that the insulation is properly installed with no gaps or tears.
Regularly check and maintain the insulation to preserve its efficiency.
Use double bubble insulation for areas that require superior thermal resistance.
Bubble Wrap Insulation: The Insulapack Process
At Insulapack, we understand the importance of high-quality insulation for your home or business. That's why our process is meticulous and comprehensive. We analyze your property's needs, suggest the right insulation solution, and ensure the correct installation. It's all part of our commitment to delivering superior energy efficiency and cost savings for you.
To sum up, bubble wrap insulation is a cost-effective, energy-efficient, and environmentally-friendly solution for your property. With Insulapack, you can benefit from our expertise and high-quality products to keep your home comfortable in any season. Explore our website to learn more about our insulation solutions and how they can help you save energy and money.
https://www.insulapack.com/wp-content/uploads/2023/01/Understanding-Bubble-Wrap-Insulation-Cost-Flexibility-and-Installment.png
450
800
Insulapack
https://www.insulapack.com/wp-content/uploads/2020/12/logo-insulapack-brown-300.png
Insulapack
2023-07-05 09:28:04
2023-08-01 08:42:28
Getting the Most Out of Bubble Wrap Insulation – Save Energy and Money with Insulapack