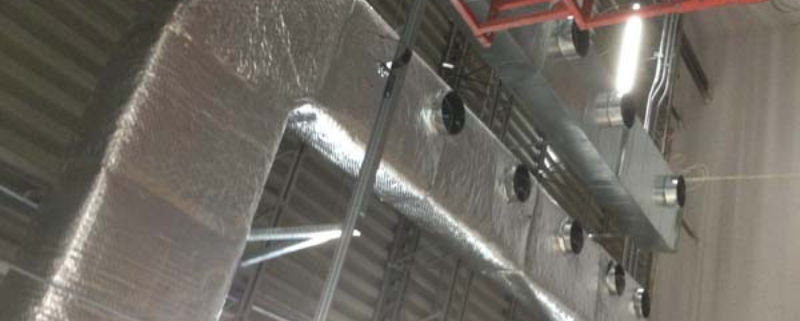 How Homeowners Can Achieve Thermal Comfort With Insulated Ductwork
Most residential and commercial HVAC systems rely on sheet metal ducts and centralized HVAC units to effectively achieve thermal comfort. Although this is the industry standard, one must realize that ventilation, heating, and cooling account for about 60% of energy usage in commercial buildings. In the home, heating accounts for about 45% of the energy consumption, while 12% goes to cooling. Therefore, being aware of
HVAC duct insulation is worth the time and effort.
While electrical usage and energy consumption for cooling and heating varies among climate zones, they're still the largest items on a homeowner's utilities invoice overall. Therefore, paying attention to utilities and energy consumption in the home and office is essential. Installing HVAC duct insulation is an excellent way to reduce energy consumption and cut costs. This is achieved by increasing the efficiency of the HVAC systems.
Benefits Of Duct Insulation
Duct insulation offers homeowners several benefits that can help achieve comfort. Some key benefits of installing duct insulation include:
Decreased Energy Bills
Increased Comfort
Noise Reduction
Prevention of Condensation And Mold And Fungus Formation
Decreased Energy Bills
Thermal duct insulation enables the HVAC systems to work more efficiently. It enables conditioned air — either cool or warm— to flow into a room at the appropriate temperature. When this occurs, it creates less work for the HVAC system, reducing the amount of energy needed to function. This directly helps to reduce the utility bill.
Increased Comfort
As stated above, uninsulated ductwork leads to high energy consumption. It also wastes over 20% of energy through the loss of cold or heat by conduction. Insulating the ducts ensures that more conditioned air circulates in the home, providing better comfort.
Noise Reduction
When air travels through ductwork, all sorts of odd noises are produced. This includes buzzing, rattling, and whistling. Metal ducts also expand and contrast, causing cracking and popping noises. Installing thermal wrap insulation is an excellent way to eliminate these sounds. However, the insulation only acts as a damper which greatly reduces the noise and doesn't eliminate them completely.
Prevention of Condensation And Mold And Fungus Formation
Another benefit of insulation ducts is that they help prevent condensation. They also help to prevent mold and fungus growth. It's common for ducts to develop problems with water leaks and condensation. This can cause mildew, fungi, mold, and other microbes to grow in the duct. If one is exposed to these microbes, it can lead to severe health issues. Thankfully, insulating the duct can help minimize condensation, reducing the chances of microbial growth.
Do you need quality HVAC duct insulation? Are you worried about not getting value for your money? Contact us at Insulapack today for the best deals on all insulation products. We're committed to manufacturing and supplying insulation products of the highest quality with our innovative insulation technology. With our products, you can be sure to achieve thermal comfort in your home.
https://www.insulapack.com/wp-content/uploads/2022/08/HVAC-duct-insulation-1.png
450
800
Insulapack
https://www.insulapack.com/wp-content/uploads/2020/12/logo-insulapack-brown-300.png
Insulapack
2022-08-11 04:57:17
2023-03-01 05:33:38
How Homeowners Can Achieve Thermal Comfort With Insulated Ductwork