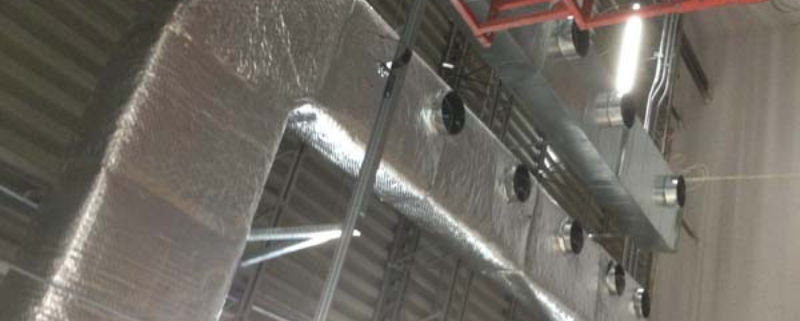 The Role of HVAC Insulation
HVAC (Heating, Ventilation, and Air Conditioning) systems are an essential part of modern buildings. They help regulate indoor temperature and air quality, ensuring a comfortable and healthy environment for occupants. However, HVAC systems also consume a significant amount of energy, accounting for around 40% of a building's energy consumption. One way to reduce energy consumption and improve HVAC system efficiency is through HVAC insulation. In this blog, we'll explore the role of HVAC Duct insulation and its benefits.
What is HVAC insulation?
HVAC insulation is the process of insulating the ductwork and other components of an HVAC system to reduce heat loss or gain. Insulation materials are designed to resist the transfer of heat between the indoor and outdoor environments. HVAC insulation can be applied to various components, including ducts, pipes, air handlers, and chillers.
Types of HVAC insulation
There are several types of HVAC insulation available, each with its own benefits and limitations. The most common types of HVAC insulation include:
Fiberglass insulation: This is the most common type of insulation used for HVAC ductwork. Fiberglass insulation is made from tiny glass fibers and is available in various thicknesses and densities.

Mineral wool insulation: Mineral wool insulation is made from rock or slag wool and is available in a range of densities and thicknesses. This type of insulation is known for its high-temperature resistance and sound-absorbing properties.

Cellulose insulation: This type of insulation is made from recycled paper and is often used in wall cavities and attics. However, it can also be used for HVAC duct insulation.

Foam insulation: Foam insulation is made from various synthetic materials, such as polyurethane or polystyrene, and is available in different densities and thicknesses. Foam insulation is ideal for insulating irregularly shaped HVAC components.
Benefits of HVAC insulation
Energy efficiency: HVAC insulation can help reduce heat loss or gain, which can significantly improve the efficiency of HVAC systems. Insulated HVAC ducts, for example, can prevent up to 30% of energy loss compared to uninsulated ducts.

Comfort: Insulated

thermal duct insulation

can help maintain consistent indoor temperatures, reducing the need for frequent adjustments to the thermostat. This can improve the comfort of occupants and reduce the load on HVAC systems.

Cost savings: By reducing energy consumption and improving system efficiency, HVAC insulation can lead to significant cost savings on energy bills. The initial cost of insulation may be higher, but the long-term savings can outweigh the initial investment.

Noise reduction: Insulated HVAC ducts and components can help reduce noise levels, creating a quieter indoor environment.

Improved indoor air quality: HVAC insulation can prevent condensation from forming on ducts and other components, reducing the risk of mold growth and improving indoor air quality.
Challenges of HVAC insulation
While HVAC insulation offers numerous benefits, there are also some challenges that should be considered. These include:
Cost: The cost of HVAC insulation can vary depending on the type of insulation used and the size of the HVAC system. However, long-term cost savings can make the investment worthwhile.

Installation: Installing HVAC insulation can be challenging, particularly for large or complex systems. Proper installation is essential to ensure the insulation performs as intended.

Maintenance: HVAC insulation requires regular maintenance to ensure it remains in good condition. This may involve inspecting the insulation for damage or wear and tear and repairing or replacing it as necessary.
Conclusion
HVAC insulation plays a crucial role in improving energy efficiency, reducing energy costs, and maintaining a comfortable indoor environment. While there are challenges to consider, the benefits of HVAC insulation make it a worthwhile investment for building owners and occupants. Whether you're installing a new
HVAC system or upgrading an existing one, it's important to consider the role of HVAC insulation and choose the appropriate insulation material for your specific needs. Proper installation and maintenance of HVAC insulation are also crucial to ensure its longevity and performance.
In summary, HVAC insulation is an effective way to improve the efficiency of HVAC systems, reduce energy consumption, and create a comfortable indoor environment. Choosing the right insulation material and ensuring proper installation and maintenance are key to achieving these benefits. If you're interested in upgrading your HVAC system, consider the role of HVAC insulation in improving its performance and energy efficiency.
https://www.insulapack.com/wp-content/uploads/2022/08/HVAC-duct-insulation-1.png
450
800
Insulapack
https://www.insulapack.com/wp-content/uploads/2020/12/logo-insulapack-brown-300.png
Insulapack
2023-03-20 08:12:47
2023-03-23 08:28:50
The Role of HVAC Insulation