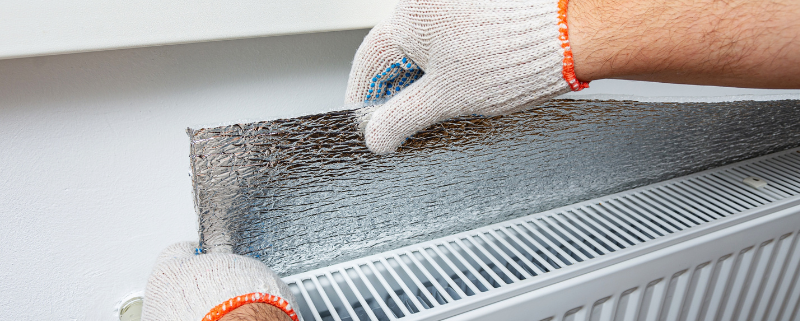 Enhancing Safety Measures with Insulation in Industrial Environments
In the dynamic realm of industrial environments, safety is the cornerstone that shapes every operation. The quest to create a secure workspace for employees has spurred the exploration of innovative solutions, with bubble wrap insulation emerging as a game-changer. Widely recognized for its role in packaging, bubble wrap insulation has evolved to become a potent guardian of safety, redefining the standards of protection in industrial settings. Let's delve into the multifaceted realm of bubble wrap in USA and its pivotal role in enhancing safety measures.
Unveiling the Versatility of Bubble Wrap Insulation
Beyond its conventional role in safeguarding fragile items during transit, bubble wrap insulation has undergone a remarkable transformation. Comprising layers of polyethylene bubbles, this insulation marvel delivers more than just temperature control. Its inherent cushioning capabilities and thermal resistance qualities have bestowed it with an unexpected secondary role – that of an unsung safety hero.
The Safety Advantages of Bubble Wrap Insulation
● Temperature Moderation: The volatile temperature fluctuations that characterize industrial zones can have adverse effects on both employees and machinery. Bubble wrap insulation acts as a formidable barrier, curbing the transfer of heat and maintaining an optimal, secure temperature within the workspace.
● Combatting Condensation: The double bubble insulation structure of this remarkable material acts as a bulwark against condensation. By preventing moisture buildup, it averts potentially hazardous scenarios, such as slippery floors, mold proliferation, and equipment corrosion.
● A Hushed Environment: Industrial environments are often cacophonous, posing risks to communication effectiveness and employee well-being. Bubble wrap insulation exhibits exceptional sound-absorbing attributes, contributing to a quieter and more conducive work atmosphere.
● Cushioning Against Impact: Unforeseen accidents can jolt even the most cautious workplaces. Bubble wrap insulation introduces an additional layer of protection, cushioning potential impacts and diminishing the severity of injuries resulting from falls or collisions.
● Fire-Resistant Properties: For industrial settings prone to fire hazards, certain bubble wrap insulation variants come fortified with fire-resistant coatings. This proactive measure aids in retarding the progress of flames, bolstering safety protocols.
Bubble Wrap Insulation in Action: Real-World Applications
● Warehouses and Storage Facilities: Bubble wrap insulation can be strategically deployed on walls, ceilings, and floors within warehouses and storage areas. By regulating temperatures and thwarting moisture-related deterioration of goods, it cultivates an environment that nurtures both worker well-being and operational efficacy.
● Manufacturing Sanctuaries: Manufacturing plants, replete with bustling machinery, can harness bubble wrap insulation to orchestrate controlled climates. In addition to preserving the longevity of sensitive equipment, it serves as a bulwark against temperature fluctuations and noise emanating from the production floor.
● Cold Storage Oasis: The realms of industrial freezers and cold storage units stand to gain significantly from bubble wrap insulation. By preserving sub-zero temperatures and circumventing frost buildup, it ensures a safer terrain, curtailing the risk of slips and mishaps.
● Construction Sites with a Touch of Comfort: Construction sites, notorious for their transient nature, can benefit from bubble wrap insulation. It can be employed to erect temporary offices and break zones, creating comfortable havens regardless of external weather conditions.
Your Path to a Safer Future
Elevating safety measures within industrial domains necessitates forward-thinking strategies. The infusion of bubble wrap insulation as a protective ally has the potential to revolutionize the landscape of industrial safety. Its prowess in temperature management, condensation control, noise mitigation, impact resistance, and fire retardation showcases its multidimensional utility.
Embark on the journey toward fortified industrial safety by integrating bubble wrap insulation into your operational ecosystem. To explore an array of solutions tailored to your requirements, navigate to our website. Your investment in advanced insulation technologies reflects an unwavering commitment to the safety and well-being of your workforce. Secure today, empower tomorrow – the path to industrial safety starts with bubble wrap insulation.
https://www.insulapack.com/wp-content/uploads/2023/08/Enhancing-Safety-Measures-with-Insulation-in-Industrial-Environments-1.png
450
800
Insulapack
https://www.insulapack.com/wp-content/uploads/2020/12/logo-insulapack-brown-300.png
Insulapack
2023-08-09 07:43:08
2023-08-28 08:22:23
Enhancing Safety Measures with Insulation in Industrial Environments