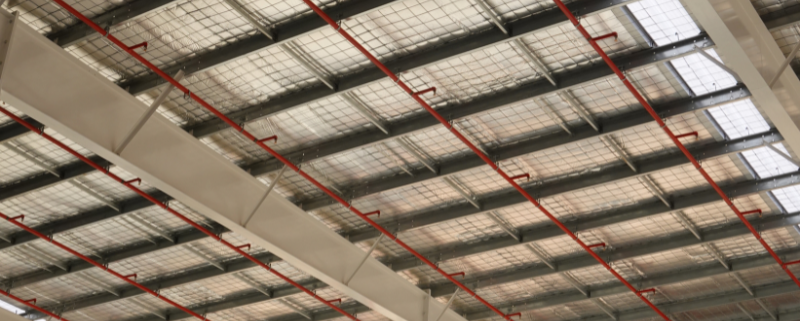 Fire Resistant Insulation – A Step Towards Safer Construction
The construction industry continuously seeks to enhance safety measures. Among these, fire-resistant insulation takes center stage. After all, we can all agree that safety is no accident. It's a product of careful planning and diligent execution. It requires the integration of the right materials, technologies, and procedures. Today, let's dive into the crucial role of fire-resistant insulation in ensuring safer construction.
Understanding Fire Resistant Insulation
What is fire-resistant insulation? It's a type of insulation material designed to withstand high temperatures and retard the spread of flames during a fire event. At Insulapack, we offer solutions such as the Fireproof Insulation Wrap and Fire Barrier Insulation.
These materials are specially engineered to offer not only thermal insulation but also a robust barrier against fire, potentially saving lives and property. They are essential components in the construction industry, used in both residential and commercial buildings to enhance fire safety.
The Role of Fire Resistant Insulation in Construction Safety
The presence of fire-resistant insulation can drastically improve construction safety. In the unfortunate event of a fire, these materials delay the spread of flames, allowing more time for evacuation and emergency response. This can mean the difference between contained damage and a devastating fire disaster.
Fire-resistant insulation is also vital for preserving the structural integrity of buildings exposed to high temperatures. Standard materials can succumb to intense heat, whereas fireproof insulation retains its structural properties, preventing catastrophic structural failures.
Types of Fire Resistant Insulation Materials
There's a myriad of fire-resistant insulation options on the market, including:
Fireproof Insulation Wrap: This flexible product wraps around ductwork, piping, and other complex shapes, providing an excellent fire barrier.
Fire Barrier Insulation: Often found in wall cavities, this insulation type can impede the spread of fire between rooms or floors.
Fire Rated Insulation: A term used for insulation materials tested and certified to resist fire up to a specified rating.
The Installation Process for Fire Resistant Insulation
The installation of fire-resistant insulation demands precise strategies and proper execution. To ensure the best performance, we recommend professional installation. Specialists will carefully assess your property, identify key areas of fire risk, and correctly install the fire-resistant insulation to maximize safety.
Benefits of Using Fire Resistant Insulation
Fire-resistant insulation carries numerous benefits beyond fire protection:
Enhanced safety: It can slow the spread of fire, allowing more time for evacuation and response.
Building protection: By maintaining structural integrity in high heat, it can minimize damage to the building.
Energy efficiency: Like other insulations, it can reduce energy costs by minimizing heat loss.
Complying with Building Codes and Standards for Fire Safety
Compliance with building codes and fire safety standards is not optional—it's a necessity. Fireproof insulation plays a significant role in meeting these regulations. By selecting appropriate fire-resistant insulation products, you can ensure your building aligns with local codes, promoting overall safety and peace of mind.
 Choosing the Right Fire Resistant Insulation for Your Construction Project
One of the most critical aspects of incorporating fire-resistant insulation in your construction project is making the right choice. The type of insulation you opt for should ideally align with the unique needs and characteristics of the building. From fire barrier insulation to fireproof insulation wraps, the choices are varied.
Factors to consider when choosing insulation include the nature of your building, its location, and the specific areas you want to insulate. Is it a commercial or residential building? Is it in an urban or rural setting? All these factors can influence the type and amount of fire-resistant insulation you need.
At Insulapack, we can guide you through this process, ensuring that you have the optimal solution for your specific circumstances.
Fire Resistant Insulation: An Investment in Energy Efficiency
In addition to safety, fire-resistant insulation contributes significantly to energy efficiency. By reducing heat transfer, it helps maintain a comfortable indoor temperature year-round, cutting down on heating and cooling costs.
This quality makes fire-resistant insulation a multifaceted solution for building owners. Not only do you benefit from enhanced fire safety, but you also enjoy savings on energy bills. And let's not forget the contribution to reducing carbon footprint—a win for the environment.
Maintaining Your Fire Resistant Insulation: Best Practices
Maintenance plays a crucial role in ensuring the longevity and efficacy of your fire-resistant insulation. Regular inspections can help detect any issues early, such as damage or wear that might affect the material's fire resistance. It's recommended to have a professional inspect your insulation periodically, ensuring it's in top shape and providing maximum protection.
Remember, when it comes to fire safety, proactive measures are always better than reactive ones. Keep your insulation in prime condition to ensure it's ready to perform when needed most.
Pushing the Boundaries of Safety with Advanced Fire Resistant Insulation
At Insulapack, we are not content with the status quo. We are continually pushing the boundaries of safety, developing advanced fire-resistant insulation products that offer superior protection and performance.
From our innovative Fireproof Insulation Wrap to our top-rated Fire Barrier Insulation, our products incorporate cutting-edge technology. This ensures superior fire resistance and thermal insulation, making buildings safer and more energy-efficient.
Enhancing Construction Safety with Fire Resistant Insulation Today
Investing in fire-resistant insulation is more than a safety measure—it's a pledge to protect your property and those within it. Fire rated insulation is one of the most effective methods of making this pledge. The cost of incorporating such materials is marginal compared to the potential human and property losses in the event of a fire.
At Insulapack, we specialize in high-quality fire-resistant insulation solutions. We strive to ensure safer construction, meeting both your insulation needs and fire safety goals. Enhance your construction safety today with our industry-leading fire-resistant insulation.
https://www.insulapack.com/wp-content/uploads/2023/06/Fire-Resistant-Insulation.png
450
800
Insulapack
https://www.insulapack.com/wp-content/uploads/2020/12/logo-insulapack-brown-300.png
Insulapack
2023-06-27 06:59:48
2023-07-19 00:10:18
Fire Resistant Insulation – A Step Towards Safer Construction