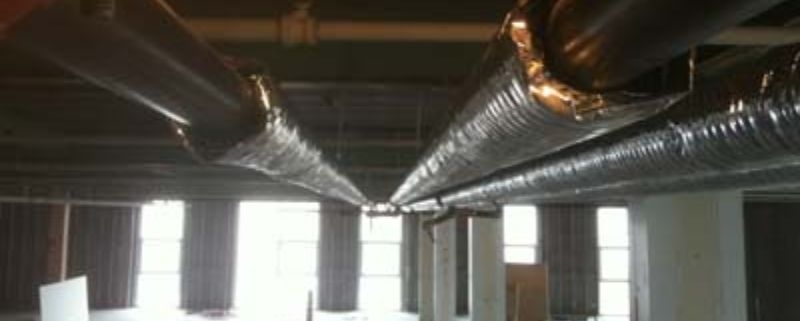 How Insulation Can Prevent Pipes from Freezing During Winter
As winter sets in and temperatures drop, many homeowners start to worry about their pipes freezing. But there's no need to panic – by taking some simple precautions and insulating your pipes, you can prevent them from freezing and keep your home running smoothly all season long.
Define Pipe Insulation
Pipe insulation is an essential element of any commercial building's HVAC system. Pipe insulation wraps work by maintaining a consistent temperature on areas vulnerable to temperature fluctuations, such as the pipes that transport water or air throughout a building.
Pipe insulation wrap reduces the transfer of heat from hot pipes to cold areas and vice versa, thereby improving efficiency and decreasing energy costs. Pipe insulation comes in a variety of materials including fiberglass batting, foam rubber tubing, bubble wrap, and foam pipe insulation.
When selecting pipe insulation, property managers should consider fire resistance rating, indoor air quality performance, climate conditions, and sustainability considerations when deciding which type best suits their needs.
How Does Insulation Work to Keep Pipes from Freezing in the Winter Months
Keeping pipes from freezing during the cold winter months is an important task for pipe insulation suppliers. Insulation works by limiting the amount of heat loss that can occur through conduction, convection, and radiation.
The most common pipe insulations available include fiberglass pipe wraps, pipe liners made from foam rubber or polyethylene plastic, and pipe jackets made from high-grade acrylic-coated fabrics.
When properly installed and maintained, these insulators ensure that desired temperatures are maintained in both insulated and uninsulated lines so that plumbing systems continue to operate safely and effectively all year round.
Which Type of Insulation Is Best for Keeping Pipes from Freezing?
Foil Pipe Wrap Insulation is the ideal solution for preventing your pipes from freezing during winter weather. Foil Pipe Wrap Insulation has flexibility that allows it to easily fit into any space or shape, making it suitable for just about any piping system while still providing superior protection.
Foil Pipe Wrap Insulation also contains an integral vapor barrier to protect against moisture, as well as a scrim reinforcement layer which provides added strength and puncture resistance.
Its thermal conductivity also helps control energy and reduce heating costs by keeping heat in or out of the buildings and provides superior R-value performance. Foil Pipe Wrap Insulation is available in a variety of thicknesses to provide custom levels of protection for your particular project.
How to Properly Insulate Your Home's Pipes
Pipe insulation wrap is an effective way to heat-proof your home's pipes. As professionally installed pipe insulation wrap maximizes the potential for energy savings, it is important to take all necessary precautions when insulating your home's pipes and hire a qualified contractor with experience in plumbing projects.
Pipe insulation wrap is installed directly on water supply piping and can be used in both exposed and concealed locations. Pipe insulation wraps come in many different sizes, depending on the type of pipe being insulated, so it's important to purchase the right size that corresponds with your pipes.
Once installed, pipe insulation wrap is extremely durable and will greatly reduce heat losses in colder months while also protecting against frozen pipes – making it well worth the initial investment down the road!
Conclusion
Pipes are an important part of any home, and proper insulation is key to keeping them from freezing during the colder months. By definition, insulation is a material that helps reduce heat transfer between two objects. In terms of pipe insulation, this means that it helps keep pipes from losing heat to their surroundings, which can cause them to freeze.
There are several different types of insulation materials available on the market, but not all of them are equally effective at preventing frozen pipes. We most recommend using closed-cell foam insulation, as it provides the best possible protection against freezing temperatures. If you're not sure how to properly insulate your home's pipes, contact us and we'll be happy to help.
https://www.insulapack.com/wp-content/uploads/2023/01/Pipe-insulation-wraps.jpg
450
800
Insulapack
https://www.insulapack.com/wp-content/uploads/2020/12/logo-insulapack-brown-300.png
Insulapack
2022-12-07 05:53:49
2023-01-12 05:47:22
How Insulation Can Prevent Pipes from Freezing During Winter