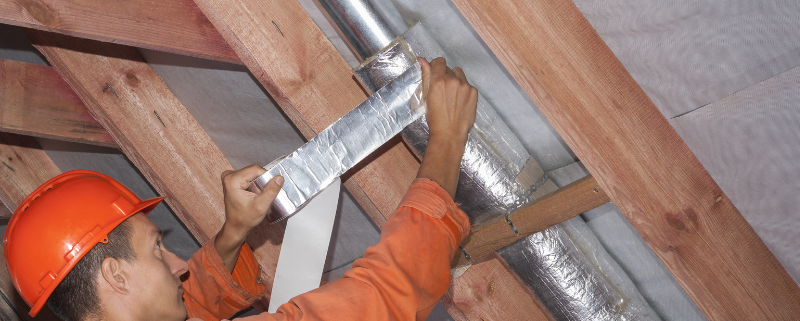 Insulation Wraps – The Silent Allies of Efficient HVAC Systems
HVAC systems are the unsung heroes of our daily lives, offering us comfort in times of sweltering heat and bone-chilling cold. However, the efficiency of an HVAC system lies in its often overlooked component, the insulation wrap. A truly efficient HVAC system requires a meticulous selection of components and an intelligent design. But, without proper insulation, even the most well-designed system can lose its effectiveness. This is where HVAC Insulation Wrap in USA comes in, ensuring your HVAC system operates at its peak efficiency.
Understanding the Role of Insulation Wraps
HVAC duct insulation wrap is more than just a protective layer. It plays a crucial role in maintaining the temperature of the air that flows through the ducts. The ductwork in an HVAC system carries conditioned air throughout the building. Without proper insulation, the air could lose its temperature, making the system work harder and consume more energy.
Types of Insulation Wraps for HVAC Systems
There are several types of HVAC duct insulation wraps available. The most common types include fiberglass insulation wraps, mineral wool insulation wraps, and foam insulation wraps. Each has its own set of advantages and is suitable for specific situations. For instance, fiberglass insulation wraps are lightweight, affordable, and effective. Mineral wool insulation wraps, on the other hand, offer excellent fire resistance, while foam insulation wraps provide superior thermal performance. 
Installation Process for HVAC Insulation Wraps
The installation process of an exterior HVAC duct insulation wrap involves several steps. First, we take precise measurements of your ducts to ensure a perfect fit. Then, the insulation wrap is carefully fitted around the ductwork and secured with tape or clamps. It is important that the insulation wrap is installed correctly to achieve maximum efficiency.
Benefits of Using Insulation Wraps in HVAC Systems
The use of insulation wraps in HVAC systems comes with numerous benefits.
Firstly, it improves energy efficiency by reducing heat loss and gain, which results in lower utility bills.
Secondly, insulation wraps reduce the noise produced by the HVAC system, providing a quieter environment.
Lastly, they help prolong the lifespan of your HVAC system by reducing the strain on the system.
Evaluating the Performance of Insulation Wraps
The performance of an insulation wrap can be evaluated through several parameters, such as its R-value (thermal resistance), sound attenuation properties, and moisture resistance. It is essential to choose an insulation wrap with a high R-value for maximum thermal efficiency.
Insulation Wraps Maintenance Tips for Prolonged Efficiency
To keep your HVAC system running efficiently, regular maintenance of the insulation wrap is crucial. This includes routine inspections for any signs of wear and tear, ensuring the wrap is securely attached, and checking for any moisture accumulation, which could lead to mold growth and reduced efficiency.
Future Trends in HVAC Insulation Wraps
The future of HVAC insulation wraps is promising, with ongoing research and development focusing on enhancing thermal performance and durability. Innovations in materials, such as aerogel-based insulation wraps, promise better insulation properties with thinner and lighter designs.
Embracing Insulation Wraps for HVAC Efficiency
As we strive towards a more energy-efficient future, the role of HVAC duct insulation wraps becomes more critical. By understanding and embracing the silent allies of our HVAC systems, we can not only enhance our comfort but also contribute to a more sustainable world. Here at Insulapack, we are committed to delivering superior-quality insulation wraps that boost the efficiency of your HVAC systems. Experience the benefits of improved HVAC performance with our insulation wraps. Step into the future of HVAC efficiency with us.
https://www.insulapack.com/wp-content/uploads/2023/06/HVAC-Insulation-Wrap-USA-1-1-1.png
450
800
Insulapack
https://www.insulapack.com/wp-content/uploads/2020/12/logo-insulapack-brown-300.png
Insulapack
2023-06-22 07:38:29
2023-06-23 01:55:34
Insulation Wraps – The Silent Allies of Efficient HVAC Systems