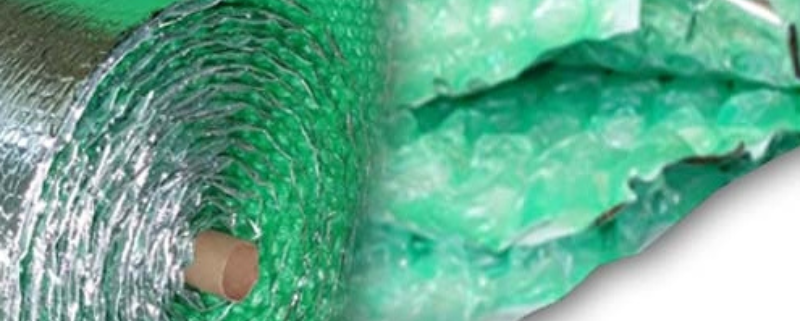 Understanding Bubble Wrap Insulation: Cost, Flexibility, and Installment
If you're looking for a versatile and cost-effective insulation material, bubble wrap is a great option to consider. This type of insulation is available in various thicknesses and possesses excellent insulating properties. They are also easy to install, making it a popular choice among homeowners. However, before installation, it's important to understand the basics of bubble wrap so that you can make an informed decision about whether or not it's right for your home.
What Is Bubble Wrap Insulation and How Does It Work?
Bubble wrap insulation is a popular and effective way to limit energy loss and help control temperature, as it acts as an insulator against both cold and heat. Bubble wrap insulation consists of two common plastics – bubble wrap encasing bubble wrap lining – which are laminated to each other through a unique dual-layer process.
This barrier prevents temperatures from transferring and helps keep rooms cooler in the summer and warmer in the winter. The bubble wrap lining has microscopic air bubbles that act like tiny pockets of air which provide additional insulation, leading to further effectiveness in keeping heating and cooling bills lowered.
How Much Does Bubble Wrap Insulation Cost, and Is It Worth the Investment?
Bubble wrap insulation is an effective, low-cost way to add insulation to your home. It's made from polyethylene plastic and consists of bubble-filled pockets that act as air pockets, trapping warm air inside your walls and attic.
The cost of bubble wrap insulation ranges depending on where you purchase it and the size of the area you want to insulate.
For larger areas, double bubble reflective foil insulation may be a better option than standard bubble wrap. Double bubble insulation combines two layers of reflective aluminum material with an inner layer of plastic bubbles.
This type of insulation is more expensive than standard bubble wrap, but it's more effective and will last longer.
It's also easy to install, since it comes in pre-cut rolls that can be easily installed directly onto walls and attics.
In the long run, investing in double bubble reflective foil insulation is worth the extra cost.
It's more effective at trapping heat inside your home and prevents air leakage, which helps lower energy bills over time. Additionally, it blocks out noise from outside sources like traffic or neighbors, providing a quieter living environment.
How Flexible Is Bubble Wrap Insulation, and Can It Be Installed Easily by Homeowners Themselves?
Bubble wrap insulation is incredibly flexible, allowing it to fit into almost any space or niche within your home. Not only that, but bubble wrap insulation installation can be easily done by homeowners themselves providing they are armed with the right tools and directions. The bubble wrap insulation also comes in a variety of sizes for every individual's needs and can easily be cut to any shape as needed during the installation process. In short, bubble wrap insulation is an easy to install material that provides experts same-level performance at a fraction of the cost.
Why Choose Bubble Wrap Insulation Over Other Types of Insulation on the Market Today?
Bubble wrap insulation is quickly becoming one of the most popular insulation solutions available on the market today due to its numerous benefits. Bubble foil insulation acts as a barrier that helps block out external noise, temperature, and dirt. It also has an extremely high resistance to fire, mold, and mildew making it an ideal solution for homes located in areas with harsh weather conditions. Additionally bubble wrap insulation comes in various thicknesses to suit individual requirements and it is affordable, lightweight, and easy to install.
All these factors make bubble wrap insulation a great choice for anyone looking to enhance the comfort and safety of their property.
Bubble wrap insulation is a great way to insulate your home and save on energy costs. It is easy to install, flexible, and relatively inexpensive. Bubble wrap insulation outperforms other types of insulation on the market today, making it the best choice for your home. Contact us today to learn more about how bubble wrap insulation can benefit you.
https://www.insulapack.com/wp-content/uploads/2023/01/Understanding-Bubble-Wrap-Insulation-Cost-Flexibility-and-Installment.png
450
800
Insulapack
https://www.insulapack.com/wp-content/uploads/2020/12/logo-insulapack-brown-300.png
Insulapack
2022-12-21 06:15:05
2023-01-12 05:47:46
Understanding Bubble Wrap Insulation: Cost, Flexibility, and Installment